Do you want to update your laptop with an external monitor? Are you considering several options and wondering: "Can I use a 4K monitor with my laptop?"
High-resolution accessories promise to let you edit videos and multi-task at the same time. However, not all laptops allow you to do that.
This post will talk over the benefits and necessity of a dual-screen setup. Finally, we will give you the best solution that suits your needs.
Let's start exploring!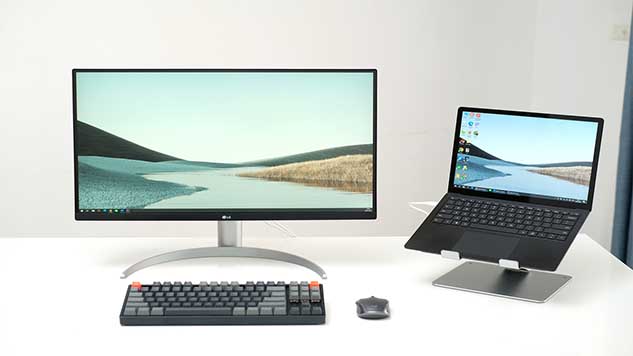 Can I Use A 4K Monitor With My Laptop?
A lot of cases show that you can use a 4K monitor with your laptop. However, before buying a 4K monitor, you may need to consider the following two factors. For more details, check out this video.
Source Youtube : Jarrod'sTech
Do I Need A 4K Monitor?
From the actual needs, the following three types of people need to upgrade 4K monitors:
1. Those who are engaged in professional work such as design and photography, because the clearer picture quality is very helpful to refine the details of the picture.
2. Mac users, after all, 4K displays can bring visual effects closer to retina screens.
3. Nowadays, PS4 Pro, Xbox One X, and other game consoles support 4K HDR for audio and video game lovers.
More and more Hollywood blockbusters and shows also adopt the 4K HDR standard when filming. At this time, 4K monitors can bring you to a more extreme gaming and movie viewing experience.
Of course, if you do not belong to the above three categories and are pure geeks interested in high-end digital products, I will naturally not stop you from pursuing high-tech trends.
But, if you only have ordinary household needs and have a limited budget, you may not need to upgrade your screen experience.
Does My Laptop Allow Me To Drive A 4K Display?
If you want an external 4k monitor to use various design software or game masterpieces smoothly, the laptop configuration must, of course, keep up.
One-sided quasi-requirement of high-resolution results in your laptop freezes and unsmooth use. It can reduce both work efficiency and gaming experience.
So, what do you need to check?
Processors And Video Accelerator
Rendering and editing applications with high CPU requirements and low graphics card requirements can increase the CPU while reducing the graphics card. If you only focus on 4K games, you can reduce your CPU budget and spend money on graphics cards.
It will help if your video accelerator supports 4K at 60Hz. The good news is even the Intel HD 520 in the budget segment supports this feature.
DisplayPort And HDMI
The 4K monitor with the frame rate of 60Hz requires HDMI 2.0. But most current laptops support HDMI 1.4b, which outputs the 4K resolution at 30Hz. This rate may be fine for some users, but you will want to get the frame rate of 60Hz for a better viewing experience.
The majority of gaming panels even require the frame rate up to 120Hz. Thus, if you are looking for HDMI 2.0 connectors, you will have very few options to consider
Fortunately, it's easy to find a laptop that features a DisplayPort 1.2, which supports the frame rate of 60Hz for a 4K monitor. This solution is highly appreciated as it can replace the rare HDMI 2.0 found in low-priced laptops.
On the other hand, some laptops in the mid-range segment and above are equipped with all three ports, including USB-C, DisplayPort, and HDMI 1.4b. If you own a laptop that doesn't support USB-C input, it will be fine to utilize an adapter to connect with the 4K monitor.
USB-Type C
Most current laptops available on the market feature a minimum of one USB-C output. But there are a few differences in terms of its responsiveness depending on the brands and models.
You will need a USB-C port that allows Alt mode to run an external 4K monitor. This USB-C extension allows it to carry Thunderbolt 3, HDMI, and DisplayPort.
Check with the manufacturer to check the DP Alt Mode on your device. What's more, it can carry data, transforming your monitor into a hub, which is capable of charging your laptop.
Almost all USB-C ports can support only one 60Hz 4K monitor. Thus, it can't deliver enough bandwidth for a dual-connection with the second device. It will help if you check the user manual to find out specifications.
Connecting Your Laptop To An External 4K Monitor
If you are more determined than needing a 4K monitor, you may want to take care of possible problems. First of all, though, it's important to admit that a 4K display gives you outstanding benefits.
What Benefits Will You Get?
The 4K monitor features 3840 x 2160 pixels, delivering clear and delicate images without graininess. The higher resolutions are easier for your eyes if you spend 6-8 hours sitting in front of the monitor.
When upgrading to 4K, you will find that the text on the display interface has become smaller. The icons have become smaller. The clicked buttons have also become smaller, and all elements have become smaller.
The result of smaller visual elements is that 4K displays can display more content on one screen, which is very efficient for specific scenes, such as cutting film, designing, retouching, programming, and development.
In short, 4K displays will improve image quality and operating space more significantly. Of course, although 4K monitors are good, you still need to be sensible when choosing them.
What Problems Can Happen?
When you connect your laptop to the external 4K monitor, you will receive a compatibility issue notification from Windows saying that the screen only supports up to 1080p. You have to change the driving resolution.
Immediately after clicking on the notification, the driving resolution for the 1080p monitor will automatically change to 1080p instead of the previous 4K. And all the apps you configured to look good in 4K automatically will become huge and no longer fit on the screen.
If you try to change what you have just done, you will find that you can't. Windows has disabled the option to control your 1080p monitor at 4k as it found the monitor can only display up to 1080p. It remembers this setting every time you connect your laptop to the external monitor.
So, you will be stuck with the horrible scaling of many applications that scale for 4K. Even when you plug and unplug the monitor or restart it, the windows "remember" that you have selected 1080p for that monitor and refuse to let me control it at 4K.
How To Choose A 4K Monitor?
The most important thing to choose digital products is to look at actual demand, not blindly catch up with the trend. Before buying a 4K monitor, you need to figure out several criteria to make the experience more enjoyable.
The Right Size - A Larger Horizon
You may have a concern: Will the words be too small to make your eyes tired after looking at them for a long time? Upgrading from 1080P/2K to 4K does require a period of adaptation after a moment of stunning.
So, it will help if you pay attention to the screen size of the 4K monitor before buying. Generally, the suitable size for 4K monitors is between 27 and 32 inches.
The 27 inches is the smallest size where you can take advantage of the extra screen real estate that 4K provides without scaling and still be able to read the text without squinting.
Meanwhile, the 32 inches seemed too big, especially when you consider that you have limited desk space and you can't sit a few miles away from the screen to enjoy it all comfortably.
If you are a professional user such as a designer, a 27-inch monitor can improve efficiency. On the other hand, a 32-inch monitor will be more suitable for a gamer.
HDR - A More Realistic Horizon
HDR technology delivers high dynamic range images. It makes the picture more real, and there will be more details under the black picture. The experience improvement it brings is mainly in audio-visual entertainment and games.
The transition between the character and the background in non-HDR mode will be blurry in the game, and you can not judge the character's figure.
HDR can enhance the 3D effect, outlining the character more obviously, the character and the scene more three-dimensional, and the effect is much more real.
Anti-Glare Technology - A More Comfortable Horizon
Once immersed in the world of movies or games, it will not come out for a while. But you often feel eye discomfort after using the screen for a long time.
The blue light, flickering, or excessively high/low brightness may be the main reasons for eye strain. Therefore, when choosing a 4K monitor, you should pay attention to whether it comes with eye-care technology.
Some displays have added low blue light and stroboscopic reduction technology to help users relieve eye fatigue to a certain extent.
You can adjust the screen brightness in real-time through the automatic light-sensing system under the display panel. And the color temperature of the screen can be automatically adjusted in combination with the use of time to take care of the eyes more comprehensively.
USB-C Input Is Required
The current setup uses a USB-C hub with HDMI output to connect to a Full HD monitor using an HDMI-DVI-D cable. These laptops don't have HDMI or DisplayPort connectors, and the monitor only has two inputs, DVI-D and VGA.
Furthermore, the USB hub has proven to be quite unreliable. Accidentally turning off the display slows down the laptop and sometimes results in a blue screen.
So, while you are not willing to replace your laptop, you may want to change your monitor first. It means that the monitor should prefer to have a USB-C input.
We hope that the article will help you somewhat reduce your anxiety about: "Can I use a 4K monitor with my laptop?"
Before deciding to order a 4K monitor, you need to take the time to measure the compatibility between your laptop and the 4K monitor. You can find all the specifications of your device on the official website of the manufacturers.
The criteria mentioned above are the prerequisites you need to consider. I hope you will find an option that suits your needs and budget soon.
Thanks for reading!
Read More:
1. The Best Laptops For Qubes OS: Which Is The Most Compatible Version?
2. Best Laptops With MX150: Reviews & Top Picks [2022 Edition]
3. Best Laptops For Digital Marketing: Review, Top Choices & Best Deals